"It's so silly that no-one can move into this house!" says Tommy.

"Someone should live here, someone with children," adds Annika.
But the person moving in this summer evening doesn't have any children. What she does have is a monkey, a horse and the strongest muscles in the world!
Play times for Pippi moves in
Stage: Villa Villerkulla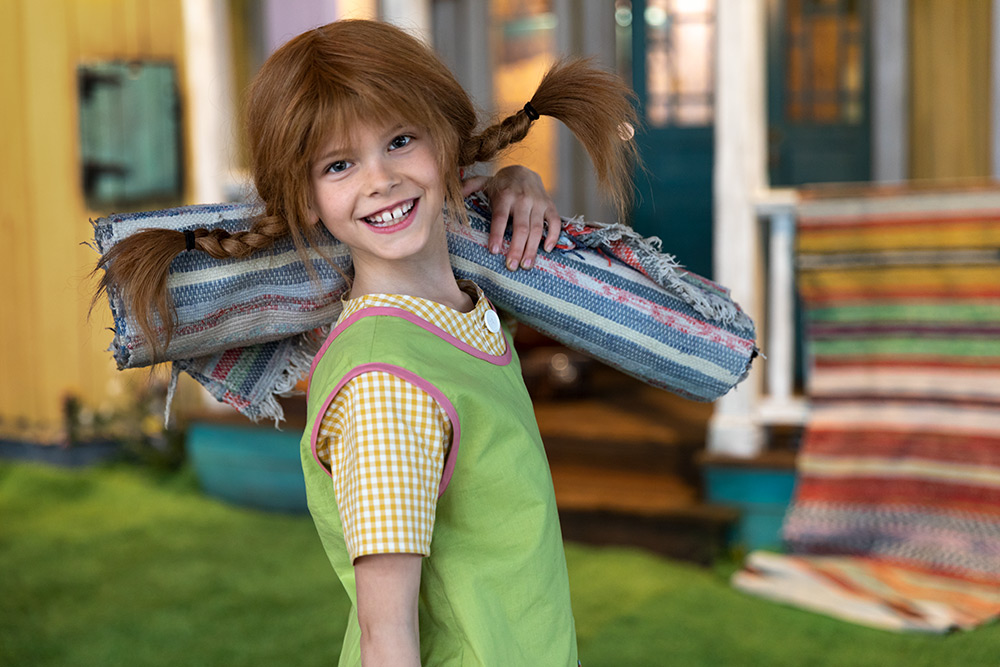 Pippi Moves In is performed by a children's ensemble at Villa Villekulla, where we get to see Tommy and Annika meeting Pippi Longstocking for the very first time. A meeting that turns into a magnificent show of epic proportions.
Pippi Moves In is based on the first of Astrid Lindgren's stories about Pippi Longstocking – a tale created in 1941, when Astrid's 7-year-old daughter Karin was ill with pneumonia and asked her mother to tell her all about Pippi. A few years later the story was taken up by Rabén & Sjögren, who published it in 1945.
"Our show gives the whole audience a fresh chance to rediscover a legendary, much-loved and incredibly strong girl. Pippi is so much more than an eccentric figure in bold colours. She is Astrid Lindgren's invention, a gift to her daughter Karin, as well as to other children and really anyone who has ever been a child," says Mikael Kallin, artistic director and stage producer at Junibacken
For the first time ever, we've also recruited our very own children's ensemble.
Director & scriptwriter: Mikael Kallin
Choreographer: Paula Helander
Costumers & set design: Maria Häggqvist, Kim Bergqvist
Original music: Georg Riedel, Jan Johansson
Background music/arrangement: Emil Nilsson
Producer & coordinator: Lisa Imander
Lighting: Lumination
Animations: Sebastian Kihlstrand
Coordinator of the children's ensemble: Rebecca Hamilton
Children's ensemble manager: Lisa Sjöström, Belinda Hansson, Alice Sandborg Schmidt
Sound technicians: Lina Westbergh, Johan Arrhenius, Joakim Alfvén och Viktor Sandström
Actors: Erik Källsäter, Lilly Forssmed, Elina Leandoer, Nouveline Hamilton, Hugo Gummesson, Isak Gummesson, Viva Östervall, Lykke Liddin, Nathalie Nordh Jacobsson, Junes Vahlne, Alva Bergström, Vidar Pege
Note: The show is performed in Swedish but is packed with singing and music. You don't need a ticket for the show, Simply take a seat outside Villa Villekulla in good time before the performance begins. Only limited places are available, so admission may be restricted.